---
Right Here in Clarksville….
Three Sisters of Shiney Rock
Off the beaten trail (Shiney Rock Road, in this case), you'll find the Three Sisters of Shiney Rock winery. This is one of the state's newest wineries, having only been licensed since 2011. It's also one of the most unique, as its wines are made only from Muscadine and Scuppernong grapes, unique to the Southeastern United States.
As the name might imply, Three Sisters is a family business. Sisters Beth Graham, Susan Coates and Kay Candelora (also known as the Powell Sisters) own the winery, and they and their families operate it. The winery produces three wines: Sweet Nannie and Super Sweet Nannie, made from the dark purple Muscadine grapes, and the intriguingly named Voluptuous Maiden, made from the lighter Scuppernong grapes.
During the wine season, Three Sisters is open on Saturdays; if you'd like to visit on any other day, you must call ahead, because Powell family members may be out in the fields.
Address: 5484 Shiney Rock Road Clarksville, VA 23927
Phone: (804) 497-9630
http://www.threesistersofshineyrock.com/
Just down to road….
Woodbine Vineyard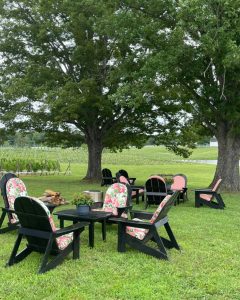 We are a Farm Winery located in Buffalo Jct. We planted our first vines in 2018. Currently we offer 2 wines, Chardonel and Honeysuckle, with more to come in January 2022.
We have outdoor seating in the vineyard while we finish building our tasting room
Address: 1142 Hite Drive, Buffalo Junction. 434-738-5013
https://www.facebook.com/woodbinevineyards/?ref=page_internal
American Way Country Wines

American made country wine at its best located just up the way in Chase City, VA
Estate grown and bottled on premiss,fruit wine, blackberry,strawberry, plum, peach, cherry, apple,elderberry,pear,pumpkin ,and soon to have tomato and cantaloupe wine
Address: 13750 Highway Fourty Seven. Chase City, VA
Phone: (434) 262-1250
About a 40 minute scenic drive from the Heart of Clarksville is…
Rosemont Winery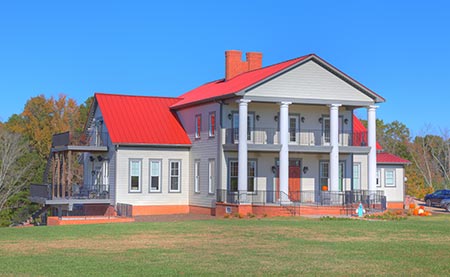 The classic Early American building housing the winery looks fresh and new—as it should, having been built in 2008. But the estate itself has been in the Rose family since 1858, and the land has produced fruit, tobacco, soybeans and corn over the decades. Since 2003, it's yielded grapes for Rosemont's award-winning wines.
The winery produces a full range of reds, whites and sweet wines, plus a rose. In a sense, they also produce "green" wine; their underground production system has been designed for maximum efficiency and minimum carbon footprint. As a nod to Virginia's Lake Region, Rosemont has a line of Lake Country wines: a red, a blush and a sweet white.
On a visit to the winery, you can taste those wines and take a tour of the production area and barrel room. The front room of the winery also functions as a gift shop for wine accessories and locally made crafts, and a gallery for local artists. Like the land it's on, Rosemont is owned and operated by the Rose family, one of whom will likely greet you when you visit.
Address:
1050 Blackridge Road
LaCrosse, VA 23950
Phone:
(434) 636-WINE (9463)
http://rosemontofvirginia.com/
---