If your not into "roughing" it at the many campgrounds we have to offer, here are a few other options you might like to explore.
Jump to:
Hotels/Motels
---
Magnuson Hotel on the Lake Clarksville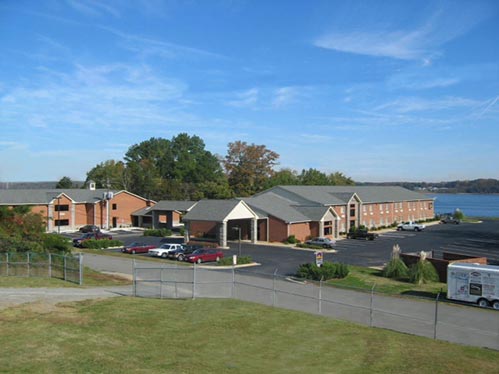 As the name implies, this hotel overlooks Lake Kerr, and offers lots of extra-long parking for boat trailers. Its location is also extremely convenient to Rt. 58, giving you quick access to the rest of the Lake Region. Amenities include an outdoor pool, a business center, high-speed Internet access and a conference center. Rooms are around $90 a night.
Address:
103 2nd Street
Clarksville, VA, 23927
Phone:
(434) 374-5023
1-800-780-7234 for reservations
Website:
http://conradusa.com/magnuson/
---
Lake Motel and Efficiencies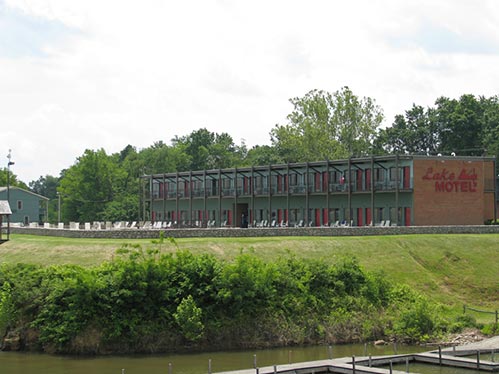 Directly across Rt. 58 from the Best Western, the Lake Motel offers boat access from its dock. Children under 17 stay free, and pets are welcome with an additional fee. Amenities include high-speed Internet access, an outdoor pool and free continental breakfast. Call for current room rates.
Address:
101 Virginia Ave.
Clarksville, VA, 23927
Phone:
(434) 374-8106
Website:
http://conradusa.com/lakemotel/
---
Bayview Efficiencies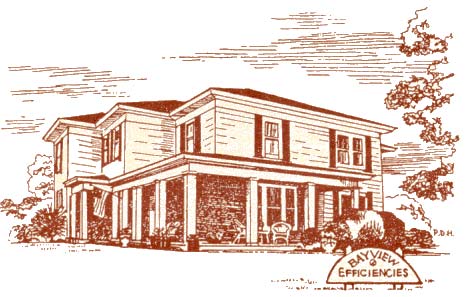 Whether you need a room or something closer to an apartment, Bayview can accommodate you in a large, beautiful house in Clarksville's Historic District. Amenities include cable TV and HBO, fully equipped kitchens and laundry facilities. You can launch your boat from Bayview, or even rent a boat, and there's lots of parking for boats and trailers.
Address:
405 Fourth Street
Clarksville, VA 23927
Phone:
(434) 374-9216
---
Bed and Breakfasts
---
Cooper's Landing Inn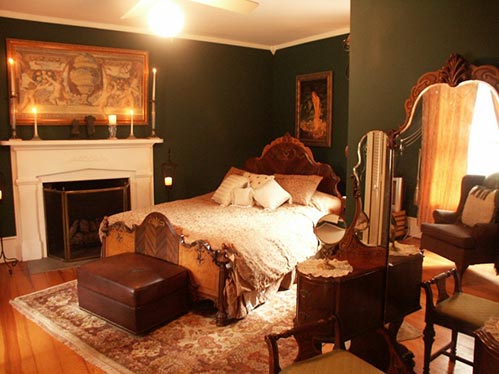 A cross between a hotel and a bed-and-breakfast, Cooper's Landing Inn offers six rooms with themes such as "Romeo and Juliet" and "Courtly Love" and a detached "Enchantment Cottage." Needless to say, it's a popular spot for romantic getaways. It also appeals to history buffs: the main building dates from 1830 and the original outbuildings, including a working smokehouse, are still standing—though the smokehouse now houses a hot tub for guests, and the 20' x 40' pool is quite new. Room rates start at $100 a night, up to $300 a night for the cottage, which includes breakfast.
Address:
801 Virginia Ave.
Clarksville, VA 23927
Phone:
(434) 374-2866
Website:
http://www.cooperslandinginn.net/
---
The Delicate Flower B & B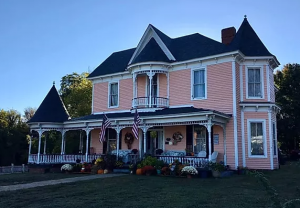 Being on the Historic Registry and originally built in 1885, this beautiful Queen Anne Victorian is being restored to bring back some of her natural beauty. There are many original features in the house including 11 foot ceilings on the main floor, 9 foot ceilings on the 2nd floor, carved newel posts to the stairways and each room showcasing a unique fireplace mantel.
The Delicate Flower is located in the lovely lakeside town of Clarksville, VA, just up the street from Kerr Lake. Take a step out our door and onto our sidewalk lined streets and be within steps to shops and restaurants.
Address:
617 Virginia Ave, Clarksville, VA
Phone: 1-434-362-2219
Website:
https://www.thedelicateflower617.com/
---
Old Crowe Farm, LLC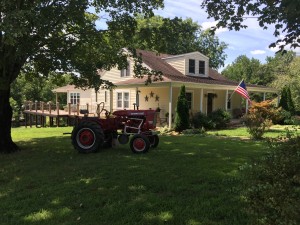 This historic Old Crowe Farm is a diversified farm and B&B located 15 minutes north of Clarksville. In addition to raising rare heritage livestock, the farm produces certified organic fruits/vegetable/pecans, we offer classes on canning and back-to-basic skills, and sell a variety of value-added farm products.
B&B guest get exclusive use of the entire first floor of the original farmhouse (minus kitchen) with private entrance perfect for families or a couple's getaway. Amenities include one bedroom, living room, dining room and wrap-around porch. Boat parking is also available. Wake up in the morning and enjoy a delicious hot country breakfast prepared with our own farm eggs, pasture-raised pork sausage, and freshly baked biscuits. After enjoying your breakfast, you may take a guided tour of the farm, lend a hand with farm chores, or take a class or two. A true getaway with peaceful farm setting and warm hospitality awaits you!
Address:
815 Little Retreat Road
Red Oak, VA
Phone:
(434) 735-0139
Website:
http://oldcrowefarm.com
---
Lake Rentals
---
Reo Realty
Phone:
(434) 374-5669
Website:
http://kerrlakerentals.com/
---
Century 21 on the Lake
Phone:
(434) 374-2279
Website:
http://century21onthelake.com
---