Day trip: Southern Virginia Wine Trail, northeast loop
Rosemont Winery is the southernmost point on the Southern Virginia Wine Trail, so if your appetite for Virginia wine has been whetted, why not continue up the trail to see what other wineries have to offer?
---
1. San Soucy:
This winery, whose name means "carefree" in French, was founded by the Anctil family in 1999. Like so many of southern Virginia's wineries, the property used to be a tobacco farm; the former tobacco drying barns are now used to dry grapes. San Soucy's range of wines includes viogniers, traminettes and the state's only tempranillo; it also includes a blackberry wine and a ginger dessert wine.
Address:
1571 Mount Calvary Road
Brookneal, VA 24528
Phone:
(434) 376-9463
http://www.sanssoucyvineyards.com/
---
2. Altillo:
Until recently, this winery was called Altavista Vineyards & Winery; a legal challenge from an Argentinian winery with a similar name forced the change. Owned by the Schenkel family, the winery has produced cabernet franc, chardonnay, shiraz and white, red and rose blends since 2010. The chardonnay, cabernet, shiraz and Meritage red blend won medals in the 2012 Governor's Cup wine competition.
Address:
620 Level Run Rd.
Hurt, VA 24536
Phone:
(434) 324-4160
http://www.altillovineyards.com/
---
3. Molliver: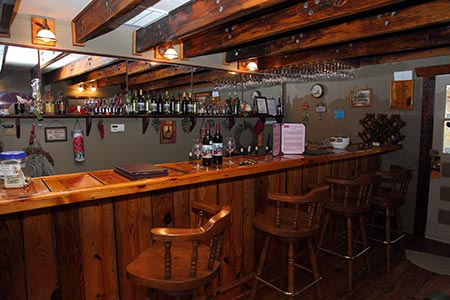 While some buildings on this 134-acre property date back to the early 19th century, the winery was founded at the turn of the 21st century, in 2000, by lifelong wine scholar Marshall Molliver. In addition to the full spectrum of reds and whites, Molliver also produces two specialty wines: a blackberry wine and a vin chocolat (chocolate wine), made from a secret formula.
Address:
2046 Waller Rd.
Nathalie, VA 24577
Phone:
(434) 349-1000
http://www.molliver-vineyards.com/
---
4. Bright Meadows: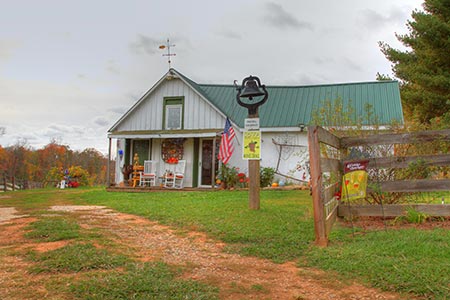 On the site of a former tobacco plantation, this winery, owned and operated by the Archer family, offers tastings in its restored 120-year-old barn. Bright Meadows' reds and whites run the gamut of dry to sweet, but there's a special emphasis on the sweet end of the spectrum: fruit wines include blackberry, apple and BAG (blackberry, apple and grape), plus a sangria.
Address:
1181 Nathalie Road
Nathalie, VA 24577
Phone:
(434) 349-9463
http://www.brightmeadowsfarm.com/
---
5. Hunting Creek: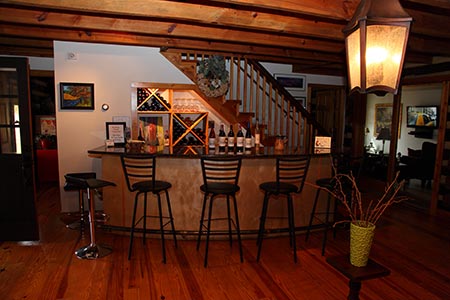 The grapes that would become Hunting Creek's wines were planted in 2002 by owners Milt and Sandy McPherson, who now hold wine tastings in their own log cabin home. The Hunting Creek's wines include a viognier and merlot, plus red wine blends and a recent addition: a white wine with jalapeno.
Address:
2000 Addie Williams Trail
Clover, VA 24534
Phone:
(434) 454-9219
---
Day trip: Southern Virginia Wine Trail, southwest loop
The western portion of the "SoVa" trail starts at Greenwood, just west of Halifax, and ends with a northward bend up to Altillo.
---
1. Greenwood:
A sixth-generation farmer of his family's land, Paul Greenwood decided to break with tradition and plant wine grapes instead of tobacco in 2004. Originally, Greenwood provided grapes to other wineries, but with the encouragement of the SoVa wine community, the vineyard became a winery itself in 2010. Visitors can sample the merlot, chardonnay, cabernet franc, sangiovese and red/rose blends in a 145-year-old former tobacco packing barn.
Address:
9050 Mountain Road
Vernon Hill, VA 24597
Phone:
(434) 579-2836
http://www.greenwoodridge.com/
---
2. White Oak Mountain Meadery:
"Meadery"? What's that? It's like a winery, but for mead, a drink made of fermented honey. Rusty and Betsy East have offered this historic beverage, made on their family farm, from their home since 2012. Their line includes three types of mead, ranging from sweet to dry, and a cinnamon cyser, meaning a type of mead made with apple juice.
Address:
455 East Store Lane
Chatham, VA 24531
Phone:
(888) 264-6323
http://whiteoakmead.bksites.net/
---
3. The Homeplace:
Founded by the Williams family in 2004 on land their family had farmed for four generations, the Homeplace originally supplied grapes for other wineries. But since 2010, they have offered their own wines: viognier, traminette, cabernet sauvignon and chambourcin, plus a range of blends. Their fruit-based wines include the strawberry Cabin Sunset and ShamRaz, a raspberry-infused chambourcin.
Address:
568 Rigney Circle
Chatham, VA 24531
Phone:
(434) 432-WINE
http://www.thehomeplacevineyard.com/
---
4. Tomahawk Mill:
Named for the former grist mill built in 1888 that marks the property, Tomahawk Mill has been owned and operated by Corky and Nancy Medaglia since 1996. Corky hopes to get the mill operational again someday, but in the meantime, it provides a beautiful setting for sampling the wines: riesling, chardonnay and blended whites and reds, plus apple and concord grape wine and even a mead.
Address:
9221 Anderson Mill Road
Chatham, VA 24531
Phone:
(434) 432-1063
---
5. Preston Ridge:
Lawrence Penn started making wines in 2003 for family and friends; after filling their requests for wine turned into a full-time job, he and his wife Lois opened Preston Ridge Winery in 2010. The winery offers 6 whites, from an oak finished chardonnay to a sweet vidal blanc, 6 reds, including a Chambourcin variety called "Blushing Katie," and fruit wines: 3 types of apple wine and blueberry wine.
Address:
4105 Preston Rd.
Martinsville, VA 24112
Phone:
(276) 957-2100
http://www.prestonridgewinery.com/
---
6. Hamlet Vineyards
This winery is brand-new; it only began producing wine in 2011. Thus far, Hamlet has produced pinot gris, with merlot, cabernet, petit verdot and Viognier coming soon. Wine is a family affair, with Virginia and Butch Hamlet overseeing the vines and their three young sons helping out.
Address:
405 Riverside Drive
Bassett, VA 24055
http://www.hamletvineyards.com/
---