---
Occoneechee State Park
Equestrians are welcome on Occoneechee's 15-mile (round-trip) Panhandle Multi-Use Trail, although it is occasionally closed to horses because of wetness. In accordance with state law, you must carry a negative Coggins report with each horse you bring to the park.
The park has 11 equestrian campsites, each of which has electricity (but no water hookups) and 12-by-12-foot covered stalls. The equestrian campground also has a 75-foot-diameter exercise ring and a central wash-down rack. You can only rent a horse stall if you're renting an equestrian campsite, and that campsite must be occupied by someone.
Address:
1192 Occoneechee Park Road
Clarksville, VA 23927
Phone:
(434) 374-2210
---
Staunton River State Park
The park's 8.3-mile River Bank Trail is open to equestrians, but there are no equestrian campsites at Staunton River State Park.
Address:
1170 Staunton Trail
Scottsburg, VA 24589
Phone:
(434) 572-4623
---
Robert Munford Trail
Located near the Eagle Point Wildlife Management Area, this 14-mile round-trip trail is open to horses.
---
Eagle Point Wildlife Management Area
Address:
State Route 705/Taylor Ferry Rd.
Boydton, VA 23917
Phone:
(434) 738-6101
---
Tobacco Heritage Trail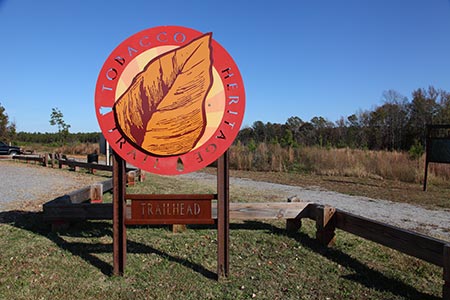 The Trail is considered very horse-friendly, as it is not paved with asphalt.
Phone:
(434) 447-7101
---
Dick Cross Wildlife Management Area
This area is open to horses and has a 14-mile round-trip horse trail. As it is a hunting area, please be aware of open hunting seasons and wear blaze orange during those times.
Address:
State Route 4 South/Buggs Island Rd.
Boydton, VA 23917
---
Shangrila Guest Ranch
This year-round guest ranch just outside South Boston provides all inclusive horseback riding vacation packages. You can bring your own horse, or have a trail-tested horse provided. The ranch also has trails for hiking, wagon rides and a net-sports area for badminton and volleyball.
Address:
3219 Cluster Springs Road
South Boston, VA 24592
Phone:
(434) 517-0888
---
Falkland Farms
This hunting lodge doesn't provide horses, but it does have more than 50 miles of trails, plus a barn with six horse stalls. If you're already planning a hunting trip, this could be a great choice.
Address:
1003 Falkland Landing
Scottsburg, VA 24589
Phone:
(434) 575-1400
---