---
Occoneechee State Park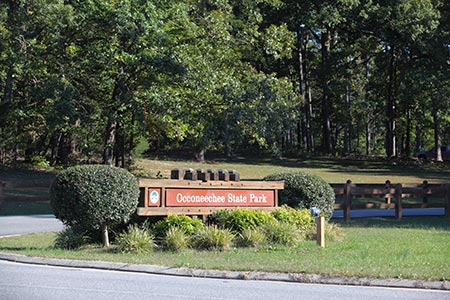 Occoneechee's 15-mile (round-trip) Panhandle Multi-Use Trail is open to cyclists, although it is closed when the lake rises to 304 feet. The trail is accessible from a parking area not far from the park's dumping station.
---
Staunton River State Park
Four of the park's trails are open to cyclists. The Twin Loops Trail is a 2.5-mile, moderate-difficulty trail with some obstacles you might find challenging. The 8.3-mile River Bank Trail has moderate difficulty, while the 1.1-mile Robin's Roost Trail is easy. The miniscule Crow's Nest Trail connects the Robin's Roost with the River Bank, and can be useful for creating a longer or shorter route.
---
Dick Cross Wildlife Management Area
Cyclists are welcome in this area, which has a 14-mile round-trip trail. Just be aware: "wildlife management" means hunting. Check open hunting seasons in advance, and be sure to wear blaze orange during those seasons.
Address:
State Route 4 South/Buggs Island Rd.
Boydton, VA 23917
http://www.dgif.virginia.gov/wmas/detail.asp?pid=13
---
East Coast Greenway
This massive road trail, which goes from Maine to Florida, passes right through Clarksville! You can enter the trail directly from Virginia Ave. in Clarksville, or enter up in La Crosse and bike down to Clarksville, a distance of 42 miles that's mostly on secondary streets.
Maps available at:
http://www.greenway.org/pdf/vaecgguide.pdf
Phone:
(919) 797-0619
---
Tobacco Heritage Trail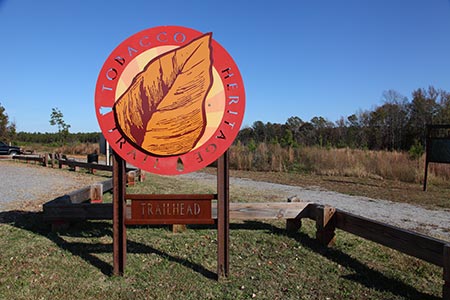 While the Trail will eventually have some paved sections in its 150 miles, its current surface is fine gravel, so it's more of an off-road trail.
Phone:
(434) 447-7101
http://tobaccoheritagetrail.org/
---