---
Clarksville Historic Walking Tour
You can begin your historical adventure in Clarksville itself. The town has more than 60 historical houses and buildings, from almost every era in its nearly 200-year history, and the Clarksville Heritage Foundation has developed a self-directed walking tour to see all of them.
The tour covers 100 years of beautiful and historic architecture, from the Puryear-Vaughan house, which dates back to 1824, to the Crowder House, built 100 years later. It's not limited to houses, either; the tour includes many churches, three stores, a movie theater, a hotel and two buildings devoted to the tobacco trade that has played such a major role in Clarksville's economic history.
Tour maps are available at the Clarksville Chamber of Commerce.
Address:
105 2nd Street
Clarksville, VA 23927
Phone:
(434) 374-2436
---
Mecklenburg Veterans Memorial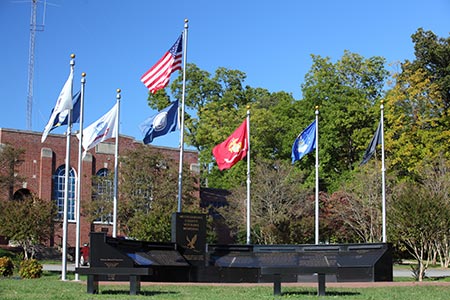 This memorial honors every Mecklenburg County resident killed in battle, from the Revolutionary War to the present. Nearly 600 names are recorded on this open-air monument.
Address: Intersection of Rt. 15, 49 & 58 Business
---
Clarksville Regional Museum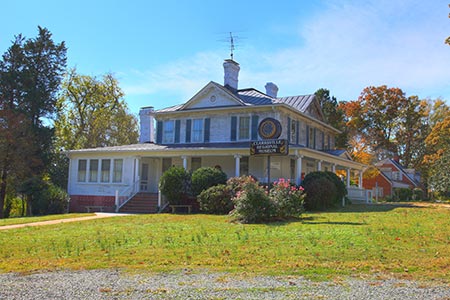 One of the stops on the Historic Walking Tour is the Davis House, which now houses the Clarksville Regional Museum. This museum showcases every era of Clarksville history, with displays including arrowheads and antique agricultural implements.
The museum features rooms devoted to the tobacco trade, nearby Buffalo Lithia Springs, military achievements and records of local residents and a typical sewing room of the 19th century. One of the newest exhibits is a miniature replica of the town of Clarksville from the 1950s that was donated by a local model train club.
Address:
801 West St.
Clarksville, VA 23927
Phone:
(434) 374-4434
Hours:
Fri. – Sat., 1 – 4 pm; Sun., 2 – 4pm
By appointment for groups
Pricing:
Admission: free.
---
Prestwould
Located just across the lake from Clarksville, Prestwould is the most intact surviving plantation in Southside Virginia. The mansion was completed in 1795 to serve as the family home for Sir Peyton Skipwith, a British baronet who moved to Virginia in 1797, and his wife Jean.
Lady Jean Skipwith planted a formal garden with native American plants; not only does the garden still remain, her records of the garden are among the earliest recorded listings of the plants she used. Lady Jean also had one of the largest libraries assembled by a woman in 18th-century America.
One of the greatest historical treasures of Prestwould was its collection of writings and records that document the day-to-day life of a plantation of that era. This collection is especially valuable for its insight into the world of the plantation's slaves. While the collection has been relocated to the College of William and Mary, the surviving outbuildings include the slave quarters.
Address:
429 Prestwould Drive
Clarksville, VA 23927
Phone:
(434) 374-8672
Hours:
April 15 – Oct. 31: Thurs. – Sat., tours start 12:30 – 3:30 pm; Sun., tours start 1:30 – 3:30 pm.
All other times by appointment.
Pricing:
Admission: $10 adult, $8 age 65+, $4 age 6–12; $8 groups of 15+; $4 grounds only
---
The Occoneechee Story
Occoneechee State Park offers visitors beautiful views, lake access and plenty of trails for hiking, biking, horseback riding and wildlife watching. It also has a visitor's center that highlights the history of Native Americans in the area. In addition to artifacts on display, the center offers "The Occoneechee Story," a living hut and artifacts.
Address:
1192 Occoneechee Park Road
Clarksville, VA 23927
Phone:
(434) 374-2210
http://www.virginiaoutdoors.com/article/more/4309
---